Have you heard about it? Surely you have. Creative Estates. It's a conference honoring all things creative and handmade. They're even having a handmade market. They'll have classes on everything creative from blogging your passion to vlogging to creating a community. They're covering all the bases.
The craziest thing about it? They're letting me come! Really!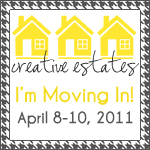 The conference is in Phoenix, Arizona and runs from Thursday April 7th to Saturday April 9th. In Arizona. Where it is warm. At least until I get there. I have a special way of turning normally warm places cold when I travel there. It must be my warm, sparkly personality. The city is compensating. I know that sounds crazy but the last two times we've been to Las Vegas people had resorted to wearing parkas while passing out porn cards because it was
that
cold. We were in light jackets so I guess it's all relative.
Last I heard there are a few openings left for booths in the handmade market and only 17 conference tickets left. 17 tickets! So, if you've been fence-sitting about whether or not to go the time has come to make the decision...to Creative Estate or not to Creative Estate. Clearly, the answer is obvious.
So, the only question left is.....will I be seeing YOU there? And will you be my neighbor?